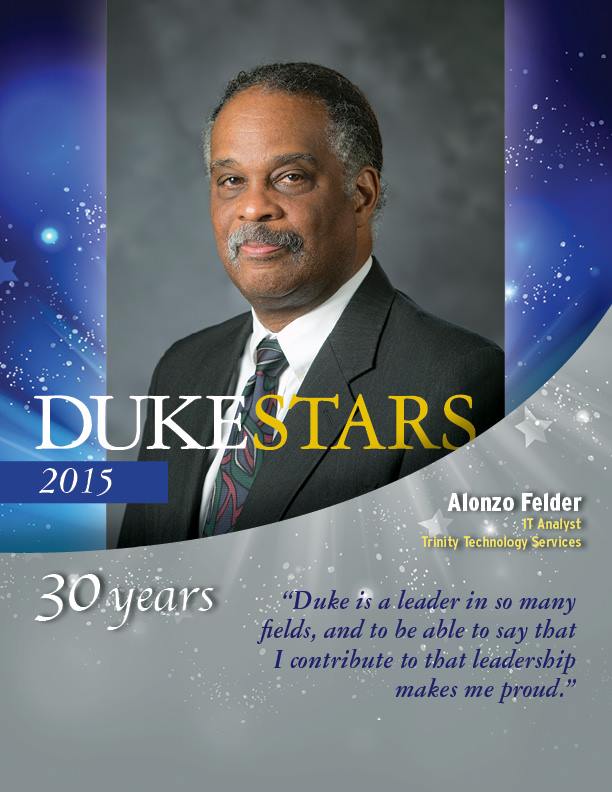 Alonzo Felder, Founder and CEO
Alonzo Felder is a full-time IT Analyst with a career spanning over 30 years at Duke University.  Also versed in legal, historical, and investigative research methods, he spends his days providing user-level computer support and troubleshooting computer related issues.  He conducts and participates in individual and group training of students, staff and faculty members.  He conducts training on the proper and secure use of networked systems and workstations. Over the years he has developed in-service educational materials and conduct instructional programs to provide training, consultation, and support in the use of new technologies to both experienced and novice users.
Over the last 4 decades Mr. Felder has also co-authored, co-investigated, edited, produced and disseminated scientific articles, and journals, and medical research studies.  He has also performed historical research for use in a variety of presentations and publications.  He has also presented on family history research at numerous workshops/presentations.
He is an online participant/contributor on a number of Genealogy oriented forums: including GenForum, Finding Your Roots, AfriGeneas Genealogy and History Forum, Genealogy.com, Ancestry.com just to name a few.
In 2009 he was co-Producer of the historical art exhibit Of Our Grandfathers.  The exhibit ran the entire month of February at THE LoDi PROJECT museum in Raleigh.This exhibit centered around Mr. Felder's maternal great grandfather, Albert Sidney James Allen, and grandfather, Ned E. Felder.  The video portion displays family photographs from the 1860s through 1960s. The artists use these dignified and diverse images of African Americans and legal documents to explore lessons about respect, the importance of elders, faith, honor and other themes.
Mr. Felder and his work is referenced in the book Emancipation Betrayed:The Hidden History of Black Organizing and White Violence in Florida from Reconstruction to the Bloody Election of 1920 By Paul Ortiz.  His research is also referenced in Old South, New South, or Down South? Florida and the Modern Civil Rights Movement edited by Irvin D.S. Winsboro. Both publications have been awarded the Harry T. and Harriette V. Moore Award, which recognizes an outstanding book relating to Florida's ethnic groups. Sponsored by the Florida Historical Society, winners of this award have exposed and analyzed a significant social issue from a historical perspective.
In 2014 Mr. Felder's work was featured on the "Finding Your Roots" TV show website. And in 2015 his submissions were featured on The Race Card Project by Michele Norris, one of the hosts of NPR's flagship afternoon broadcast, All Things Considered.
Mia Rowe
Director
Mia Rowe has a passion for marketing and business management, she is always looking for ways to get involved in the community. She has been working with My Roots Foundation since the very beginning on Web Design, Social Media, Marketing, Events, and more.
Paul Ortiz
Board Member
Paul is an Associate Professor at the University of Florida.  He served as President, 2014-15 of the Oral History Association, and currently serves as VP United Faculty of Florida.
Larry Wood
Board Member
Larry is a Durham business owner with strategy and oversight experience in non-profit companies.
Claudine Woods
Board Member
Claudine Woods.  Claudine is an Office Administrator for the Law Firm of Alston & Bird.  Since 2008 she has served as Co-chair of its "Connecting Through Diversity" program.
Kevin Stewman
Founding Board Member
Kevin Stewman is a member of a Law Firm specializing in Real Estate and corporate practice.  The firm of Stewman, Booker & Love Law, PC. has been serving the counties of central North Carolina since 1996.  Kevin was Awarded Juris Doctor Degree in May 1988. He graduated in the top 15% of his class.
George Digsby
Founding Board Member
George Digsby is THAT guy!  You know, 'that guy' who knows everybody and gets things done!  He has a restless energy that is contagious. He is always looking for ways to get involved in the community and to help businesses grow. He's great at contract negotiations, strategic planning, budgets, and project management.  He works with My Roots Foundation on networking and fund raising and so much more.
Cassandra Davis
Founding Board Member
Cassandra Davis holds a Ph.D. in Education from UNC Chapel Hill.  Dr. Davis currently works as a qualitative researcher with several initiatives such as Gaining Early Awareness Readiness for Undergraduate Programs North Carolina (GEAR UP NC), North Carolina Transformation Partnership with Vanderbilt University, RAND, & NC Department of Public Instruction, IES/REL Southeastern American Indian Schooling in North Carolina.