Back to school, way, way back!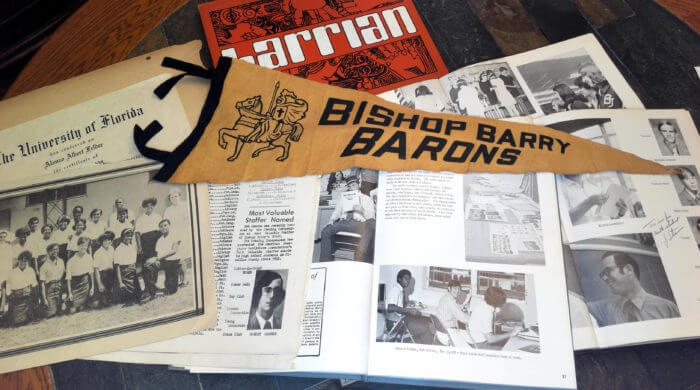 You may have heard of the hardships of our parents' upbringing and the struggle for an education. You know the stories; the ones that start with "I used to walk 50 miles to school – up hill – both ways – in the snow – in Florida, just to get to school." Well, it's good to get the REAL story of our ancestors lives; and we can. For me, it was not that difficult. My mother saved everything, so thanks to her I have old report cards. These are revealing since they not only give the grades, I so richly deserved in elementary school, but are a treasure trove of teacher commentary on my character, work ethics, personality, and temperament. Yeah! It's all in there. Raw and uncensored. I think the current legal system might offer some protection against this today.
The other part of mom's collection includes yearbooks from my dad. Thumbing through Gibbs High School yearbooks of the 1940s offers a rich source of info on not only my relatives but of their schoolmates and teachers and on interactions with some of those folks.
So even if your folks have a story of walking 50 miles to school, in the snow, you can still find other great stories about their educational pursues. Report cards, yearbooks, school censuses, class lists, alumni lists, and other educational records are great sources you can use to glean more of your ancestor's educational lives.
Below is an image of a 1910 census that shed a lot of light on one of my relatives.  It shows 18 year old Alonzo Allen at Cookman Institute.  Cookman was founded in1872 and was one of the first schools for Blacks.  It preceded many Historically Black Colleges and Universities. It was later renamed Bethune-Cookman College.  I'd been in search of my great Uncle Alonzo for a while and could not figure out why he was not listed with the rest of the family at their home.  Mystery solved when I found him on line 8, in the dorms at Cookman.

A recent newsletter from Ancestry.com came with a great article on education sources for ancestors. I've copied the article with a link to the .PDF guide below.
Whether you're looking for a valedictorian or a class clown, education records can open a priceless window into someone's younger years. You might get a look at their academic endeavors, extracurricular interests, athletic achievements, bosom buddies—maybe even a glimpse of their prom date.
So where do you find these pearls of insight (and possible incrimination)? Well, sit up straight and sharpen your pencils because Juliana Szucs is sharing her crib notes on how to find out where, when, and whether your ancestor made the grade.