Finding My Biological Family – an Interview with Cathy Clarke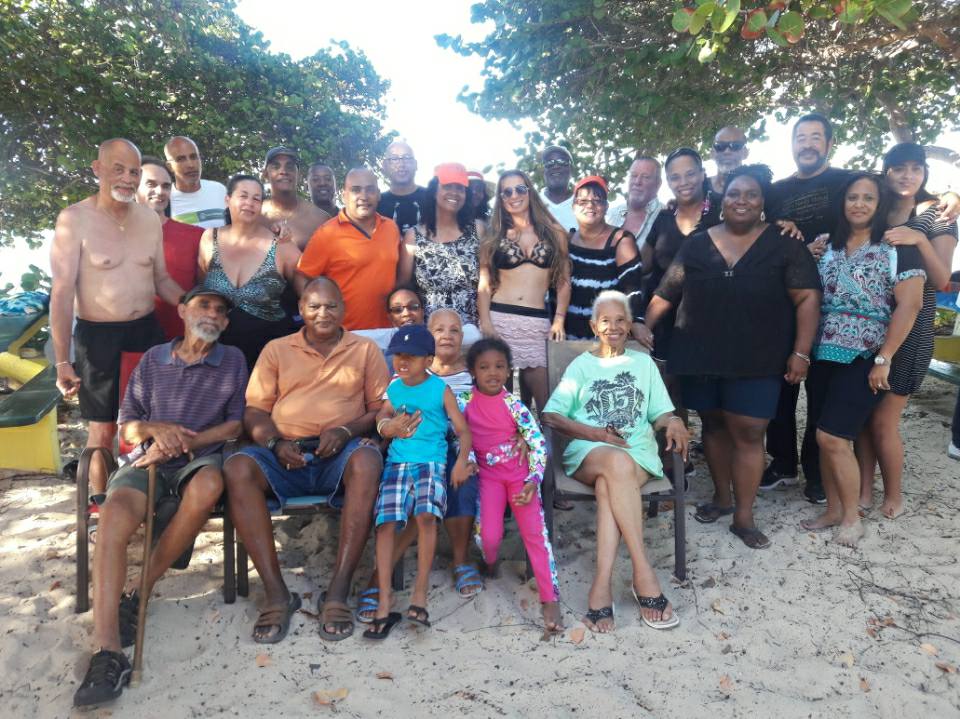 Surrounded by biological family.  Second row: Cathy (in the orange cap).  Front Row: Uncle Buddy (86) and Uncle Jean (80).
My friend Cathy is a retired judge in Florida. At first meeting, you notice that her personality has a kick. Call it spunky, self-assured, outgoing, or whatever you choose. There is a quality about Cathy that exudes, self-confidence and a comfortability in her own skin that few people have.  Cathy is also adopted.  We grew up in St. Petersburg, Florida, attended the same elementary school, high school, and university.  Our paths diverged after college, but we recently reconnected via Facebook. That is when she told me the amazing adventure of meeting her biological family for the first time.  When she told me her story, I knew this is one for the My Roots Foundation family.
Last year I gave you the story of my old college roommate, Frazier Green, and his reunion  with his birth mom after almost 60 years. Both Frazier and Cathy, as it turns out, had moms who wanted a better life for them.
My earliest memory of Cathy was seeing this little fireball of energy on the playground at Immaculate Conception Elementary School.  We were on the playground, and there she was, defending herself against some kids who decided to bully her about being adopted.  That was their first mistake. With only a few words, she dropped the mic when she said, "your parents had to bring you home from the hospital; but mine chose me."
According to the American Adoptions website "When a woman places her baby up for adoption, she isn't making the choice to give up. Instead, she's choosing a life for her child," The decision for a birth mother to place a baby up for adoption is often an act of love that put a child's needs ahead of their own desires.
Further research shows that a birth mom may place a baby up for adoption if she feels she is unable to provide a safe and stable home.  Adoption.com shares that "If a woman is in an abusive relationship or environment, she may not want her baby to experience the related hardships, particularly if she doesn't receive support."
"I always knew I was adopted, I don't remember ever hearing the word for the first time. My parents must have just used the word around me as a baby, usually with the phrase "gift from God".  Cathy explains.
Cathy has always cherished her adoptive parents as the first and only people to care for her and show her unconditional love.  When Cathy talks about her mom and dad, she beams.  They truly loved her and made her feel loved, protected, and special in every way.  Even as we talked on the phone about them, I can feel the radiance coming through as she relates how much she loved the only parents knew.
First Contact
Cathy signed up for a DNA test on Ancestry.com.  When her ethnic admixture results arrived, she was surprised to learn of West African and Scandinavian ancestry.  The Scandinavian part makes sense when you consider that in 1916, Denmark sold St. Croix, St. Thomas, and St. John to the United States.
It was a few months later she relates; "I was at work playing on my computer during lunch break. An attorney came back into my chambers to ask if I would write a letter of recommendation for him. I started telling him about 23andMe and Ancestry.com explaining how they work, when this email from a close relative came through, "Hi, from the Virgin Islands". I excused myself and told him, "I think I'm having a moment".  I've been on a cloud ever since."
This 'close relative' contact listed his occupation and location so she quickly Googled them and began researching.  This lead to a life-altering phone call.
She discovered that her biological mother has passed away.  Many of her mom's family discovered at probate that there was a baby girl that had been put up for adoption.  Suddenly Cathy's biological family was growing, first a 'close relative' cousin and now – siblings.  Before long she discovered her biological maternal grandparents had 3 children; her mom, and 2 boys.  The boys (Buddy and Jean) are still living on the island.
Through this cousin and two uncles, Cathy went on to learn of the circumstances of her birth and adoption.  She learned, her dad tried to push her mom out of a moving car.  The pregnancy  was under less than ideal circumstances and her mom knew she had to protect the child she carried.
"My birth mother's brother, Uncle Buddy, told me that my biological father wanted me aborted. My birth mother got pregnant with me after college, in New York City, a long way from St. Croix. Uncle Buddy offered to bring me back to the island and raise me himself but my birth mother made the difficult decision to place me for adoption."
Her mom had a connection through a friend to Catholic Charities. The friends husband was in the military, assigned at MacDill Air Force Base in Tampa, FL.  Her birth mom left her baby with Catholic Charities in Tampa with one very specific instruction – she was to go to an educated family.
Choosing a Better Life for Her Baby.
Baby's New Family
They were very good to her.   A successful couple, Cathy's adoptive dad was a dentist and her mom was the first African-American to receive a doctorate from the University of Florida's College of Education.  Cathy's folks were just what her birth mom wanted for her baby girl. Meanwhile, back on St. Croix, Cathy's biological mom, went on to marry and have 5 other children and became very accomplished, also in the field of education.
 "I did start looking for information after my mother passed and after the birth of my daughter but my father died while I was in the process, I just let it go. I had filed legal documents for non-identifying information under Florida law at the time.  A judge contacted me (unusual) directly and suggested DNA testing. Anyway, I was grieving for the father who gave me my name and decided it was no longer important."
  "I did ask my mother who raised me about my biological mother. Momma said the adoption agency informed them that my birth mother had a college degree and wanted as much for me.  Momma suspected she may have worked for Catholic Charities (which turned out to be correct) because the agency was so meticulous with me. The subject of searching didn't come up much, I felt the people who raised me were my parents."
Meeting the Family
Well, after the phone call with her cousin, the next step was a trip to meet the biological family.  "I was met at the airport by many of my relatives including my two uncles, 80 and 86 years old."
Her Uncle Buddy asked  – "Were they good to you?"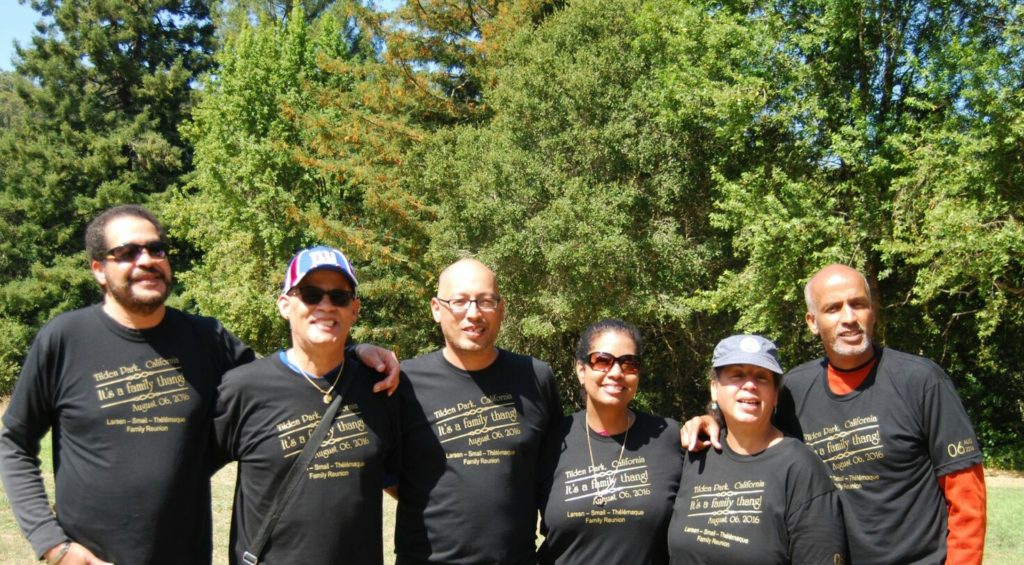 "I always worried about that little girl."
The St. Croix family proved to be very open and welcoming.  "We had a wonderful time back at the house and later there was an all day picnic on the beach in St. Croix with amazing food, including fresh fried fish (I developed a love also for salt fish pâté)."
As she walked around the island, Cathy found it a bit amusing when people would stare intently at her and then smile.  There is no doubt in anybody's mind who she is.  "You look like your mother."  On top of that, her uncles tell her that she shares many of the same mannerisms and gestures that her biological mother used.
" I am very lucky my birth mother's family is so warm, loving and accepting. I would like them even if I weren't related. I spoke with some DNA relatives of my biological father who were of little assistance or not interested in helping me find out much. The friendliest one of them sadly told me that she wished she had been adopted."
As we close out our interview, I asked Cathy if there was anything she wanted to say to others who might be searching, or considering a reunion.
We will close out with her words:
      "As far as advice, you have been great about explaining the pitfalls and helping me understand. It was fortunate there were still family members around who knew my story, eliminating the need for further research. It is important to confirm the DNA if possible, so no one can deny you."
    "Most significantly, for me, was that I was at peace with my parents who loved and raised me, I wasn't looking for new parents, just curious. As with any unknown, there may be some negativity. Remember, as a child, you didn't have anything to do with what your biological parents did or should have done. It's crucial that they not be judged, it's not for us to do so. I'm just happy to be here, that I was given life…and an even bigger family."
Interested in searching for your birth family; let us know how we can help.  Also, check out these resources mentioned on the My Roots Foundation website.
---
About Us:
My Roots Foundation is a 501(c)3 nonprofit organization focused on honoring our ancestors by the discovery, preservation, and sharing of their lives and stories. We offer an intimate approach to discovering your heritage and equipping you with knowledge to pass down to the next generation.